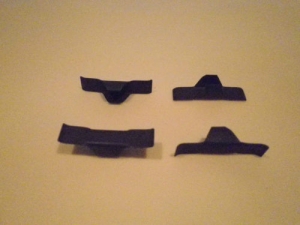 Yet another small but important detail part that adds that extra level of authenticity to your restored or original 48-EK Holden.
These little covers are almost always missing from the brake backing plates of earlies. They fill the adjuster slots to help stop dirt , mud , dust and water getting in your brakes. These are a reproduction of the original and fit up easily and securely. The clipping arrangement is slightly different to the original ones , but it is almost impossible to detect when installed. These actually locate more securely than the originals so are less likely to fall off during use.
Each "item" here is for a set of 4 covers – i.e. 1 "axle" set , enough to do 2 wheels.