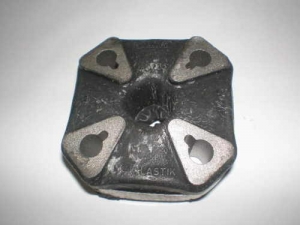 Hi Torana fans , up for grabs here is a new old stock , genuine "metalastik" rubber steering coupling to suit the ever popular Holden HB LC LJ and TA Torana models including the Brabham , GTR , GTR XU-1 , S and SL variants. It may suit Vauxhall Viva HA models too , not 100% sure , you will need to verify yourself for that application. It carries the original manufacturer`s markings moulded into the rubber "METALASTIK" and "21/940" which were on the factory production coupling.
Why would you put a hard red urethane coupling on a perfectly restored , concourse Torana when you could have the real deal ! This will help give your Torana that smooth steering feel the way it was when it left the factory!!
These are now being "reproduced" by a well known restoration parts company and priced at over $150 !!!! They are good quality as a "replacement part" , but as always with "restoration parts" the detail is lacking !! – Not for the purist Restorer seeking all the original detail.
IT IS SMALL DETAILS LIKE THIS THAT SEPARATE "NICE" CARS FROM THE SHOW-WINNERS!!!!!!!
MAKE NO MISTAKE ,THIS ITEM IS THE REAL DEAL!!! For less than a "reproduction" coupling , you can have the real genuine part with all the CORRECT manufacturers markings and moulding marks delivered to your door !! What a deal Torana fans !
The metal band around the coupling is for storage and installation purposes only and must be cut away after installing to allow proper flexing of the steering joint.
This coupling is N.O.S. and presents as if it were made yesterday – no cracks or perishing of the rubber , even the mould release agent is still coating the rubber !