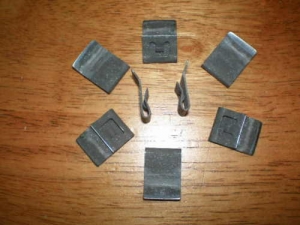 Howdy all you Torana fans! I apologise for the delay , after many emails I have finally made some more outer doorbelt weatherstrip clips to suit the ever popular Holden Torana HB , LC , LJ and TA coupes including Brabham ,GTR and GTRXU-1 variants . These clips have been unobtainable for quite some time and are really the only successful method of attaching the outer doorbelt weatherstrips to coupe doors.
These clips are made from spring steel and have a black phosphate coating like the originals. They are not an exact duplicate , but are EXTREMELY close and WILL FIT , FUNCTION and LOOK exactly like the originals when installed. They will replace Holden part number 7447833.
You are purchasing a kit of 8 clips. This is enough to do both doors.
Why bother trying to re-use your old and rusted clips on an expensive resto project! With these new clips you can have your outer door strips securely fixed to the door in a few minutes exactly like it was when it was new – no messing about with glues or generic trim clips that will never work properly anyway.