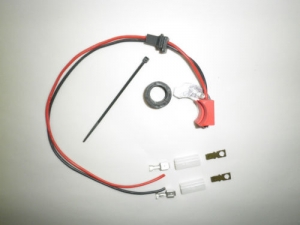 Hi Torana GTR and XU-1 fans , here`s a little item that may interest you .
This is an electronic ignition conversion kit that will fit INSIDE your ORIGINAL BOSCH distributor ! It simply replaces the points – how cool , virtually undetectable visually and no more points bouncing or missing when you give it a squirt to 6000+ RPM !
All parts are brand new , installation is basically the same as changing points. I have a similar unit in my own car and it works a treat. Easier starts and no misses up to 6200 RPM ( that`s as far as I have taken mine).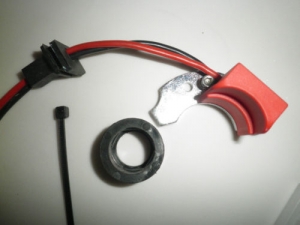 If you have a nice original numbers matching car that you like to drive , but hate how those points bounce when you give it a serve but you don`t want to fit a non original dizzy then this is the answer. A lot of people are taking advantage of hidden or stealthy modern technology for their classic muscle cars these days (and why wouldn`t you ). Fitting a nice roller cam and roller valve train under your stock rocker covers is a classic example , well this is something along those lines for your distributor. With a few of these hidden modern upgrades , you can keep your engine bay looking totally factory stock , but enjoy power , reliability and driveability that could only be dreamed about back when these cars were new and raced !
The module hooks up easily. The black wire goes to the negative terminal on your coil just like the original points wire. The magnetic trigger ring simply slides over the cam and the stock rotor goes back on over it. The red wire needs a full 12v ignition "on" source to operate. This can be achieved by a few different methods – NONE of which require any cutting or splicing of your original loom !!! Your car can be returned to 100% original at any time in a few minutes with a screwdriver.
I have fitted a couple of these to nice original cars and the owners could not pick any difference under the bonnet ( I hid the red wire with the black one in some black heat shrink tube and it just "dissappears" to the eye ) , but they did notice a real improvement in starting and driving their cars.