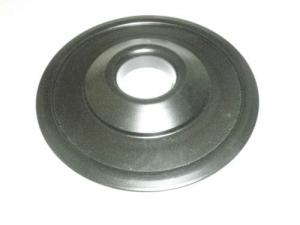 For sale in this listing Holden fans is a brand new reproduction air cleaner base to suit the WW Stromberg 2 barrel carburettor as used on 186-S HR, HK , HT and HG Holdens including Monaro GTS as well as Torana LC GTR models with 161-S / 2600-S or 173-S / 2850-S engines.
These have been very difficult to find until now. So many "S" manifold and carb sets have been bought without aircleaner , only for the new owner to find that the aircleaner is more expensive than the carb setup !
This is a quality reproduction part made right here in Melbourne , Australia with Australian labour and steel. As you can see from the pictures , it is virtually identical to the original and the fit and installation is perfect.
The listing is ONLY for the new base pictured in the first photo. All other parts depicted are for reference or comparison only and DO NOT form part of the listing.
With this base , you can use any standard Holden 6 aircleaner silencer ( top) assembly – simply paint it gold or silver and fit a new decal. It takes the standard element too.
If you need a HK , HT or HG 186-S aircleaner decal I can supply at extra cost.