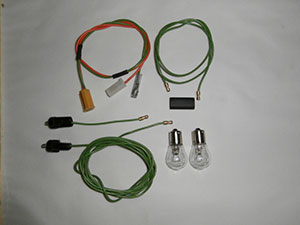 On offer here is a perfect reproduction of the original EK Automatic models "Backup Lamp Package" as offered by Nasco under part number 7417766. The lamp package comes complete and ready to install as pictured.
Very easy to install , everything is "plug and play" into the factory fitted sockets and connectors at the back and the front harness plugs into the existing neutral safety switch on the column and to the fuse panel and body harness lead that is already factory installed on the production line.
A nice and useful little accessory for your prized EK, especially when we are all used to driving our modern cars with reverse lights!
Postage will be Auspost satchel with tracking. Payment within 5 working days of purchase please. Direct deposit welcomed and preferred , paypal just tolerated.