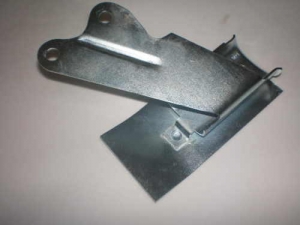 For sale here KTG fans is an excellent reproduction power steering hose "support and heat shield assembly". This is a reproduction of Holden part number 7437906 , Group # 6.672.
This bracket and heat shield assembly holds the power steering hoses where they loop around the inside of the "Y" in the subframe legs. It is only used on vehicles that were fitted with V8 engines AND dual exhaust. It is quite rare as most P/S systems people buy for their V8 Monaros originated on a Brougham. Broughams only came with single exhaust and therefore DON`T usually have this bracket. The factory DUAL exhaust runs very close to the power steering hoses in this area ( see picture ) which is why Holden fitted this heat shield.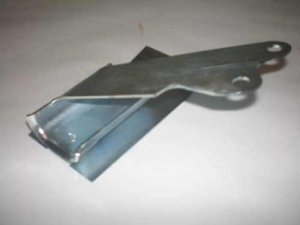 As you may appreciate , this will not be a "high turnover" part , so tooling costs for the very limited run I have made were quite high. It was not as simple to make as it first appears and they were made here in Melbourne too , which means the cost unfortunately is a bit on the high side. I have not made many , so if you need one or think you might need one , get in now as I don`t think I will do another run!!!