NEW IMPROVED KIT NOW WITH BRAND NEW PURPOSE BUILT FLEXPLATE TO SUIT THE GREY MOTOR CRANK FLANGE !!! FLEXPLATE MADE WITH GENUINE GMH CENTRE BLANKS FROM THE OEM SUPPLIER !!
For your consideration is a Trimatic fitting kit that I developed for my own EK about 12 years ago.
This kit allows a Trimatic auto to bolt up to a Grey 6 and utilises the original rear side engine mounts. It is primarily designed to use when replacing the Hydramatic in an EK or EJ , but can be used to fit a trimatic in any early Holden with a Grey motor. Note that 48 – FB and EK/EJ manual bodies require floor tunnel modifications to fit the larger Trimatic transmission.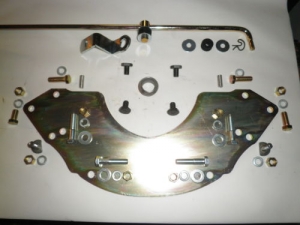 As most of you will be aware , parts for the old Hydramatics are getting scarce and expensive , and at best they are only "just" a transmission. By fitting an efficient Trimatic you will gain a noticeable improvement in performance , driveability and fuel economy over the Hydramatic. As a benefit for those with a hot Grey , fitting a Trimatic will also allow the installation of a higher stall torque convertor which is not possible with the Hydramatic. This is the reason I developed this kit in the first place – I found it hard to get my Grey to idle in drive with a 45°/82° cam , twin 2 barrel Hitachis and a Hydra !
All components pictured are BRAND NEW !This is the "basic" kit and comprises only the parts depicted ( High tensile bolts/nuts , laser cut mounting plate , custom spiggot bush grey to trimatic , laser cut vinyl lettering for shift quadrant , flexplate to crankshaft bolts , trans shift lever and shift rod , etc )- which are all the unique parts required to do this conversion. All the other parts required are readily sourced as they are all either standard Holden or readily sourced aftermarket parts.
This kit should be fitted by someone with sound mechanical knowledge and a reasonably well equipped workshop.
As stated above , this kit bolts up to the original rear side engine mounts . When replacing a Hydramatic in an EK or EJ , there are no permenant modifications required for the body in an EK and only a small clearance proceedure in an EJ – it is a genuine "bolt-in" kit and the car can be returned to stock at any time. The mounting plate shown at the bottom of the picture is made of 5mm plate steel and is laser cut to my own design and gold zinc plated. This will mount the engine and transmission assembly in EXACTLY the factory stock location and angle . This kit is designed to be very "factory stock" looking , and most people will find it difficult to pick as being modified !
With the aid of this kit , you should be able to install a fully rebuilt Trimatic in your EK/EJ for around half the cost of getting your Hydramatic rebuilt – that is if you can find a transmission place who will do a Hydra ! You will also gain the benefits of a sharp-shifting , efficient , modern auto transmission that can be serviced or rebuilt by any transmission place at reasonable cost !!
This kit also includes a comprehensive set of fitting instructions with photos to make the job easier. These instructions also contain a list of all the other components you will need to source in order to complete your conversion.