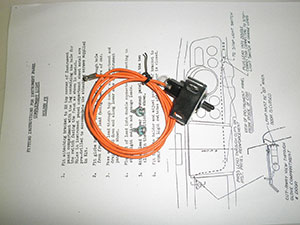 On offer here is a nice reproduction of the original FE and FC "Package- Instrument Panel Compartment Lamp" as offered by Nasco under part number 7406036. The lamp package comes ready to install complete with a copy of the original fitting instructions. It features a perfect reproduction of the lamp holder bracket and correct flat blade screws. The lamp holder/switch assembly differs slightly in design from the original , but looks nearly identical when installed and will work exactly as the original. Has the correct colour and gauge of wire and bullet connector.
Very easy to install , the holes are already in the dash panel from the factory ( go have a look- open the glove box door and look up under the inner lip ! ) and the cable plugs into an existing connector – how simple , 10 minutes work !!
A nice and useful little accessory for your prized FE or FC, especially when we are all used to driving our modern cars with glove box lights!
Postage will be Auspost satchel with tracking. Payment within 5 working days of purchase please. Direct bank deposit preferred , paypal just tolerated.