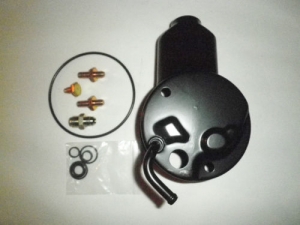 On offer here is a brand new Power Steering pump reservoir kit with all studs , O-rings and valve fitting to suit HT and HG GTS 350 models. It may also suit HQ models with 350 engine – not 100% sure on that application , you will need to do your own research for HQ.
This is an exact replica of power steering pump reservoir GMH part # 7806532 , used only on HT and HG GTS-350 Monaro models when optioned with power steering. ( maybe HQ 350 as well , you will need to check).
It is finished in a high quality black paint , and all fittings are zinc plated. The kit is concourse ready to fit to your pump body.