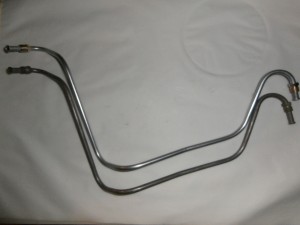 On offer here HT and HG Holden fans is a brand new CORRECT reproduction fuel pump to carburettor pipe to suit 253 Holden engined cars with the original Stromberg WW 2bbl carburettor. This fuel pipe is an exact copy of the original with ALL OF THE CORRECT RADIUS BENDS as shown against an original un-molested NOS pipe. There are 7 bends with 4 different radii , a very difficult pipe to make correctly. Without this correct shape , the fuel pipe will NOT clear the factory manifold heating hoses. Please note that this pipe is unique to HT and HG 253 ONLY !!!
Made with quality 5/16″ bright zinc plated steel bundy tube exactly as original and lightly gold-washed zinc plated flare nuts exactly as original , this pipe is the ONLY 100% correct reproduction available anywhere. Made right here in sunny Melbourne !
Postage will be satchel with tracking via Australia Post. Payment to be made within 5 days of purchase please. Direct deposit works best for me as a payment option , paypal just tolerated.