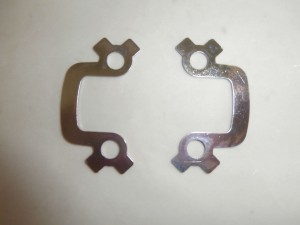 Up for grabs here Holden fans is a pair of reproduction French locks for the rear universal flange bolts used in production on all Grey Motor powered Holden cars from 48-215 to EJ. Please note that these lock plates will only fit the ORIGINAL "GREY" DIFFERENTIAL with the flat flange. If your car has a later "red" diff fitted with U-bolts , I have those lock plates too.
These are an EXACT duplicate copied from a NOS sample in the correct thickness and grade steel and plated in the correct silver plated finish for that factory concours touch !
These "lock plates" as GMH called them in the parts book (part no. 7419577 group 5.546 ) are the only factory approved method for stopping your rear universal flange bolts coming undone. Holden did not use spring washers etc as they did not provide the 100% mechanical lock on the bolt that these inexpensive little plates do!
Just one click and you could have a pair in your mailbox in a few days. Impress all your Holden guru mates and the judges at your next Nationals or All Holden Day with the correct detail you have gone to on your Holden!
Postage is free on these lock plates. Post will be regular mail with Australia Post.
Keep your Holden ALL Holden!