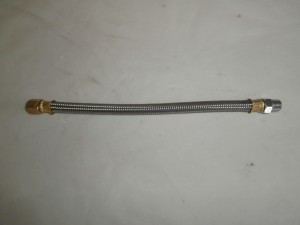 On offer here Holden fans is a NEW reproduction Braided Metal Fuel Hose used in production on all Grey Motor powered Holden cars from 48-215 to EK.
FJ owners please note that only EARLY FJ models used the flexible hose, it was deleted early in FJ production and then re-introduced for FE-EK models.
These hoses have been reproduced from original samples. All fittings are BRAND NEW !! Made here in sunny Melbourne, AUSTRALIA by AUSTRALIANS !
These hoses are an essential part of the ELECTRICAL system as well as the FUEL system. The reason they are made from braided hose is that they form the electrical EARTH from the engine to the body in FX-EK models !! Fit one for that factory concours touch !
Just a couple of clicks and you could have a one in your mailbox in a few days. Impress all your Holden guru mates and the judges at your next Nationals or All Holden Day with the correct detail you have gone to on your Holden!
Postage will be Auspost satchel with tracking on these hoses. Payment within 5 days of purchase please. Direct deposit warmly welcomed ,paypal just tolerated.
Keep your Holden ALL Holden!