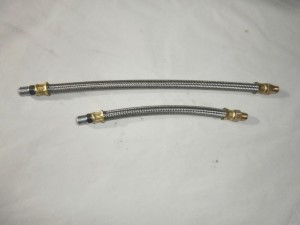 On offer here Holden fans is a PAIR (2) of NEW reproduction Braided Metal BYPASS OIL FILTER Hoses for the AC TYPE engine oil filter fitted as an accessory to Grey Motor Holden models including 48-215 FX, FJ, FE, FC, FB, EK and EJ. There were 3 styles of filter used – Fram, Ryco and AC. Generally the Fram filter (all steel construction, welded on bracket and red/orange colour with R3P element) is FX/FJ era , the Ryco (all steel construction, welded on bracket and orange body with black top-R4P element) is FE/FC era and the AC K5 (steel canister in hammertone grey paint with die-cast lid, bracket held on with large U-bolt and R2080P element) is FB/EK/EJ era. This is not absolute , just in general from years of observation of original survivor cars.
These hoses have been reproduced from original samples and are accurate reproductions of Holden part numbers 7414075 and 7414076. All fittings are BRAND NEW and purpose made just like the originals – these fittings are not available "off the shelf" !! Made here in sunny Melbourne, AUSTRALIA by AUSTRALIANS !
If your original hoses are leaking or you have removed your filter and heard the crack as the brittle rubber inside snaps, you will know how hard good original hoses are to find !! No need to worry now as they are now available NEW again !! The listing is for both long and short hoses.
Just a couple of clicks and you could have a pair in your mailbox in a few days. Impress all your Holden guru mates and the judges at your next Nationals or All Holden Day with the correct detail you have gone to on your Holden!
Postage will be Auspost satchel with tracking on these hoses. Payment within 5 days of purchase please. Direct deposit warmly welcomed ,paypal just tolerated.
Keep your Holden ALL Holden!