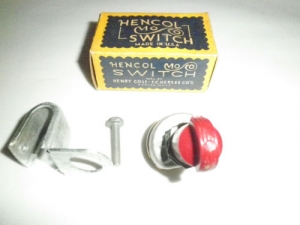 On offer here is a brand new period style heater fan switch that would look right at home in your humpy Holden or classic Chev , Ford , Mercury , Chrysler , Dodge , Pontiac , Bedford , Vauxhall , Buick or Oldsmobile.
The switch was made by the Hencol Manufacturing Company in Boston , Massachusetts USA a very long time ago by the appearance of the box.
It comes with a dash lip clamp so you don`t have to drill any holes , or you can remove the clamp and mount it through a hole in the dash.
This switch is INFINITELY VARIABLE ( rheostat type) with a resistance range from 0-1.8 ohms , perfect for 6 volt applications.
It is constructed from plastic , but looks exactly like that brown/maroon bakelite from the old days. The knob also has that period "Art Deco" look and would be right at home in any 30`s , 40`s or even 50`s car.